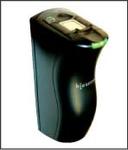 One touch fingerprint identification for access control.
No cards, keys or even pins required!
The V-Pass is the ultimate biometric reader for physical access to facilities. This reader eliminates the need for PINs, keys or cards to gain access to secure areas. To gain access, the user simply places their finger on the reader and in less than one second the V-Pass confirms or denies access based on a database of fingerprints from authorized users.
The V-Pass performs onboard enrollment, identification and template storage for 200 fingerprints.
Benefits
Fingerprint Identification for access control installations in a self-conatined reader
Automatic finger detection provides one touch identification
Industry\'s most accurate fingerprint algorithm (FVC2002) presented with fluctuations to the fingertip
Flexible communication options supporting Wiegand formats up to 64 bit
VeriAdmin software for initial set-up, administration and networking functions
Intuitive user interface with red, green and amber LED and tone signals
Specifications
Dimensions: Length: 130 mm (5.12″)
Width: 50 mm (1.97″)
Depth: 65.5 mm (2.5″)
Communications: Pigtail wire connection for RS 232, RS 485, Wiegand IN/OUT
Enrollment Time: < 3 seconds Verification Time: < 1 seconds False Acceptance Rate: FAR = 0.20% False Rejection Rate: FRR = 1.0% Number of Templates: Optimized for 100 per unit, 200 maximum capacity Template Size: < 350 Bytes Current Draw: Idle:: 0.20 amps @12V Enroll / Verify: 0.25 amps @12V Voltage: 7V to 24V DC