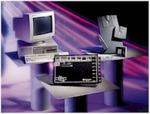 General Information
The Alto 818 is an advanced access control unit that can easily manage the
security of both small and large applications. Combined with a host system
from NexWatch, the Alto 818 provides virtually unlimited access control
flexibility.
Maximum control
A complete proximity access control and alarm monitoring system, the Alto
818 controls up to 8 entrances, monitors up to 32 input points, allows up to
11,200 individually numbered command keys, facilitates up to 120 unique
access codes, and stores up to 4,000 event logs.
The Access Control Unit (ACU) monitors and controls up to eight Multiple
Switch Monitors (SE774A), each monitoring four input points. Power supply
options include a power module developed exclusively for the Alto 818
(SE3018), or one with battery backup capability that provides continuing
operation if power fails (SE3718S). An eight-point annunciator device (SE778A)
is also available for additional relay output or building mode control. Adding to
their system flexibility, Alto 818 controllers support multiple access control
and reader technologies. The Alto 818SX supports analog proximity sensors
and keypads, plus compact, medium-range, standard, non-incendive and
intrinsically safe sensors. The 818SC, in addition to the features of the 818SX
also adds support for DigiReader and smart card readers. Though the
818SC does not support medium-range analog sensors, its ability to support
digital technologies gives the 818SC a read range from four to 20 inches*
when used with the NexWatch DigiReader family of digital readers.
Fully networkable
The Alto 818 is fully functional as a stand-alone system, or it can be linked
with multiple units from a central location using either an SE5850, NexSentry
Manager*, NexSentry Command Center, or NexSentry StarGaze host. The
SE5850 can accommodate up to 32 directly connected units; both the NSM*,
NSCC and StarGaze can manage thousands of ACUs for even the largest
Key Features
Fully integrated access control and alarm monitoring system
Reads multiple card types
Supports multiple reader technologies:
Analog proximity sensors
Keypads
Digital proximity readers (818SC only)
Up to 20 inch card-reading range (818SC only)
11,200 card capacity when connected to NexWatch host
120 access codes when connected to NexWatch host
4,000 transaction buffer provides protection against communication loss
System flexibility
UL294 Listed (818SX only)
Tested, ready-to-run system
Basic Features
Access Control:
Host compatibility
Extended protocol
Clock (time/date/year)
Group key programming
Increased transient protection on relay outputs
Route trace of specific keys
Program, clock, building, mode and data maintained if power fails
User-defined lock/unlock schedule
Hard/soft anti-passback with forgiveness
Adjustable unlock/shunt/relock time
Manual lock/unlock from host
Normal and reverse lock operation
Open/forced door detection
Interface for printer
Interface to RS232C and 20mA
Optional event storage, recall and centralized database with SE5850, NSM*, NSCC, and StarGaze host computer
Keypad capability
Supports analog proximity sensors
SE2814 and SE2815A sensors
Non-incendive and intrinsically safe sensors
Recognizes analog proximity cards (1050/1060 keys)