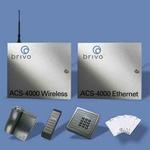 General Information
The Brivo Access Control System (ACS)
is a Web-hosted service that is cost-effective and easy-to-manage. Ideally suited for multi site installations, Brivo ACS is a turnkey, hosted service that is fully customized to meet customer needs. All administration functions are available online, anytime from any Web-browser.
Centralized, Web-based Management
Manages multiple facilities from a single Web browser, from any location, at any time. Providing access to a remote site is as easy as point and click.
Plug & Play Networking
Using either existing Ethernet connectivity or secure, wide-area wireless networking, multiple facilities across the nation (see above graphic) can be connected immediately without costly cabling and hard wiring. ACS panels automatically connect to the Brivo Hosting Center moments after installation
Web-Based Interface
All management and control functions are easily accessed by an authorized user via any standard Web browser, from any location, at any time.
No On-Site PC or Local Software
Brivo ACS application and databases are hosted off-site at Brivo's secure, centralized data center. This means no local software, no on-site PC and no customer IT involvement.
Remote Control
Brivo allows multiple sites to be controlled centrally via one simple account interface, even when there are dozens of facilities scattered across town or across the country.
Instant Notifications and Centralized Audit Trail
Brivo ACS provides an online activity log, customized reports and up-to-minute e-mail notifications of system events.
System Grows Easily
Adding new doors, new employees or new locations is as easy as point-and-click.
Brivo ACS Ideal Customer Profile
Enterprises with …
Multiple facilities dispersed across many geographies
Multiple, non-networked access points on a large property
Remote or unmanned facilities