Yale Locks Installation & Repair in NYC

Yale is one of the oldest international brands, opening their doors for business in 1840. Today they are known as "the world's favourite lock", with millions of their locks in use across 125  countries. Their technology and security is still second to none.
Mr. Locks sell a range of Yale products, including Yale smart locks & keyless, cylinder locks, deadbolts, mortise locks, nightlatches, and digital door viewers. We also specialize in Yale lock installation and repair in New York.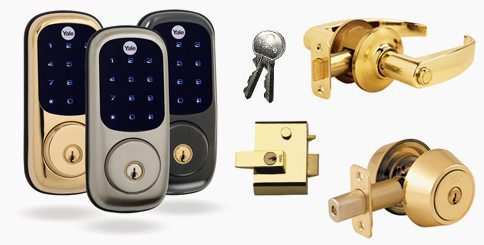 Yale Products
Smart Locks – Yale Real Living: Yale offers a small selection of innovative smart locks, which negate the need for keyed entry, and introduce you to the modern world of technology and ease. In this collection you can find Keyless and Keyfree Connected Smart Locks, the Keyless Digital Lock, and Code Handle.
Cylinders Locks – Yale are famous for their early introduction of the cylinder, and these modern designs stand strong and secure today. You can find Euro profile cylinders and Rim cylinders in this collection.
Deadbolts – The Yale 800 series deadbolts offer many functions and finishes, and are compatible with all New Traditions leversets and knobsets.
Mortise Locks – Mortise locks are installed inside the frame of timber doors, and offer a high level of quality. Yale offer a range of deadlocks and sashlocks, suitable for external doors and bathroom doors. You can find British Standard 5-Lever Locks, which offer the maximum security.
Nightlatches – Yale is experienced in manufacturing nightlatches. They are commonly referred to as "Yale Locks". They offer traditional and contemporary designs, rim locks, deadlocks, double locking systems, and nightlatches maximum security.
Digital Door Viewers – The digital door viewer allows you to see a clear image of anyone who comes to your door, so you can know your guests, and identify any bogus calls or potential intruders. Yale offers the latest technology in digital door viewers, including a device with internal viewing.
Yale Lock Installation
Mr. Locks Security Systems is proud to provide this range of products from one of the oldest and most respected lock brands in history. Yale locks offers unbeatable security, design, and technology. We offer Yale lock services in New York, including the installation of new locks, rekeying, and lock changes. Our services cover Manhattan, Brooklyn, Queens, and The Bronx.
Contact Mr. Locks today for advice and inspiration on finding the right Yale Lock, or to arrange for a professional lock installation in New York.