If you are moving to a new apartment or office space, your keys have been lost or stolen, or you want to benefit from a master key system, rekeying your home or business locks is a safe and cost-effective solution. Mr. Locks offers professional lock rekey services for residential and commercial clients in New York City, including Manhattan, Queens, Brooklyn, the Bronx and Staten Island.
If you want to know if your locks can be rekeyed, just give us a call!
Lock Rekeying Vs Changing The Locks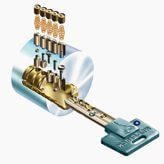 Lock rekeying involves changing the pins inside the lock. Your new set of keys will fit lock, and any old keys will no longer work. This makes lock rekeying a faster and more affordable solution than changing the lock (in changing locks we are replacing the entire lock). Mr. Locks' experts will assess whether your lock can be rekeyed, and will always offer the most cost effective solution for your situation.
Contact us for a free quote – 866.675.6257
The reasons for needing to rekey your locks can range from losing your keys to your keys being stolen. Rekeying a lock is also a great alternative if you wish to keep the current locks already installed on your door. Another reason, is if you move into a new house/apartment, as you would also need to rekey or replace your locks because you do not know how many people still have keys. For a lock to be re-keyed it must have at least a National Standards Institute Grade 1 designation, or you may have to replace your whole lock. It can be expensive to replace an entire lock, so re-keying allows the old key to be replaced without replacing the entire lock. The locksmith is trained in how to do this quickly and without mistakes, plus he can make you a new key after completing this process.
Key replacement services: contact us for a free quote – 866.675.6257
The history of Lock Rekey
Rekeying was invented in 1836 by a man named Solomon Andrews. He was a New Jersey locksmith, and his locks had adjustable tumblers and keys so it could be rekeyed. In the 1850's Andrews and Newell invented removable tumblers you can take apart and scramble. The keys had interchangeable bits which matched other tumbler configurations. This ability to change it into several arrangements became the basis for modern day combination locks.