NYC Mul-T-Lock Authorized Dealer
For over four decades, Mul-T-Lock® has been a worldwide leader in developing, manufacturing and marketing High Security locking products. Mul-T-Lock is one of the premiere companies for High Security Locks, Deadbolts, Cylinders, and other security products for Commercial and Residential uses.
Are you looking for an authorized dealer of Mul-T-Lock® products in New York? Then you have come at right place.
Mr. Locks Security Systems is a well known company in the field of security solution and locksmith services. No matter which brand's security products you are having, we are able to provide all types of services for that. And as Mul-T-Lock products are trending nowadays for achieving highest security, we have gained specialization in that too.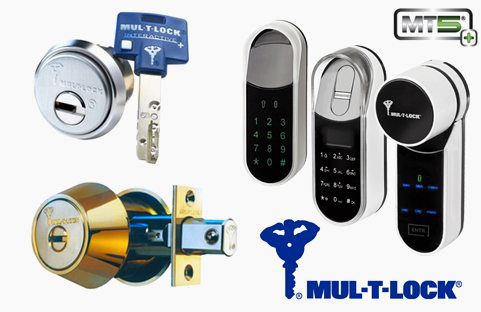 Whether you want to buy the Mul-T-Lock's security products, want to get them installed or repaired; you can rely on us for best and efficient services. Whether you're in Brooklyn, Queens, Manhattan, or anywhere else in the city, we can help you get set up fast!
If you want to learn more about our services and to talk to our Mul-T-Lock professionals, contact us via contact page.
Mul-T-Lock MT5+ Technology
The MT5+ was made for the highest security level. The key control doesn't only have 1 tier of locks, but Mul-T-Lock has been developed to have three different tears, including a bar tool, lock combinations, and key order cards. MT5+ Technology will remain undamaged during different lock manipulations which include bumping, drilling and picking.
How much more security could you want?
Request more information on the newest technology from our security experts.
Mul-T-Lock Key duplication in New York City
If you are looking for regular or high secuirty MT5+ keys duplication service in New York City, we can help you.
As a familiar keys maker in the city, we'll duplicate your keys at fair and reasonable prices. Our keys are guaranteed to work.