Biometric Locks – Fingerprint Door Locks
The old days of picking or forcing lock cylinders are gone!
Biometric locks are the latest development in security technology, offering more safety and access controlled for businesses and homes. Mr. Locks offer high quality biometric lock installation and repair services in New York.
Biometric locks use the individuality that we were born with, in order to identify visitors trying to enter your building. Biometric door locks give both commercial and residential clients additional security – it is much more difficult, if not impossible to copy a fingerprint, compared to copying a key.
High Quality Biometric Locks
Mr. Locks offer cutting edge biometric door locks from top brand names such as Samsung, Westinghouse, iTouchless, Adel, NX4, and more.
The most common biometric locks that used in commercial and residential applications are fingerprint door locks, which store and identify visitor's fingerprints to allow entry. This means fingerprint locks don't require any keys, all you need to open the lock is your own hands. They can also come with keypad entry door locks for more access options, and can be combined and integrated with electronic access control systems.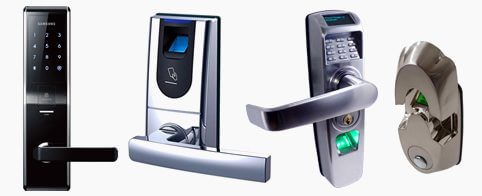 The Best Fingerprint Door locks:
Samsung EXON: One of the best fingerprint door locks
Anviz L100 Fingerprint and RFID Biometric Door Lock
NX4 Biometric deadbolt: A subtle, small, motorized fingerprint deadbolt and lock for any home
Aegis Optical Biometric Fingerprint Door Lock
iTouchless Bio-Matic Fingerprint Door Lock
Westinghouse RTE PoE Lock
Assa Abloy Digi Electronic Biometric Fingerprint
Adel Keyless Biometric Fingerprint Passcode Door Lock Trinity 788
Other types of biometric locks include retinal, iris, and voice recognition.
Biometric Lock Installation & Repair

We offer professional biometric lock installation services. We can offer you advice on which biometric locks are best for your home or business, and then install them with minimal disruption to your daily routine. We can also repair or replace biometric locks that are faulty.
If you have a large company to secure, we can assist with the design of your security solutions, and integrate biometric locks with other components of your overall system. We can help you choose the best biometric fingerprint deadbolts and door locks according to your needs and budget.
Contact Mr. Locks today to find out more, or to arrange a consultation for biometric lock installations in New York City, including Manhattan, Queens, The Bronx, and Brooklyn.