Commercial Door Installations & Services
Mr. Locks is a leading commercial door service provider in New York City. Business owners, builders, architects and contractors trust us to deliver full-service commercial door services using the latest high quality doors and door hardware.
We install, replace or repair commercial doors, and offer many door types and locking systems for a tailored solution.
Our commercial installations include metal or hollow-metal doors, aluminum doors, solid or fire-rated doors, herculite doors, aluminum doors and glass doors.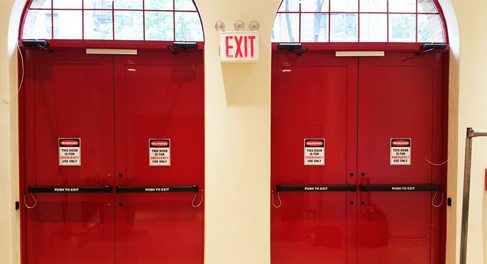 Mr. Locks Commercial Door services:
We offer commercial door installation and repair services for the following clients and buildings in New York:
Retailers – From mega-balls to boutique stores and everything in-between, we install high quality doors for your retail business.
Corporate – From single office to large corporate complexes, medical facilities and laboratories, nursing homes and public sector service buildings, you can trust Mr. Locks.
Hospitality and Recreation – Stylish and practical door installations for hotels, restaurants, cafes, resorts and health clubs.
Residential Buildings – Door installations for large residential buildings and apartment complexes. Ideal for architects and property owners.
Institutions – We install commercial doors for educational institutes, hospitals, financial institutes, religious buildings and buildings of cultural interest.
Why Choose Mr. Locks?
Mr. Locks provides reliable and professional commercial door installation and repair services for all business clients in New York. We offer:
Secure and prompt door services for all commercial industries and sectors, brought to you by a BBB accredited and fully insured locksmith company.
Full-service solutions including all door hardware, security and accessories.
Large variety of door materials, designs and door hardware to suit your budget and requirements.
Highest quality commercial door products from leading brands.
Full service guarantee for your absolute peace of mind.
Contact Mr. Locks today to arrange a consultation for commercial door installations or repairs in New York City.