No matter what your business, security is always a number one priority. It is important to protect your property from the risks of burglary.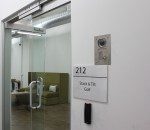 How much precaution you take will depend on a number of factors, such as how valuable your assets are, and whether your business is located in a high-risk area. However, in all cases it is better to prevent a burglary than to deal with the repercussions.
Start by taking a look at your business property exterior, and think about it from a burglar's perspective. Try to minimize the number of hiding places that a burglar could utilize, such as bushes and empty skips. Add exterior lighting to dark or vulnerable areas to deter thieves.